---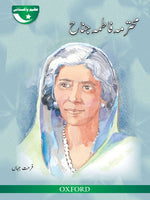 The Azeem Pakistani (Great Pakistanis) series highlights the achievements of notable figures in various fields, such as sciences, social welfare, medicine, and humanities. Thoroughly researched and written by well-known writers in clear language and lucid style, these titles are a valuable resource for young leaders to take pride in their country and its people.
Fatima Ali Jinnah was a Pakistani politician, dental surgeon, stateswoman, and a leading figure in the movement for an independent Muslim nation. She was the younger sister of Muhammad Ali Jinnah, the founder of Pakistan. Her legacy is associated with her support for civil rights, her struggle in the Pakistan Movement and her devotion to her brother. Referred to as Madir-e Millat ("Mother of the Nation") and Khatun-e Pakistan ("Lady of Pakistan"), many institutions and public spaces in Pakistan have been named in her honour.
This book includes a glossary at the end that explains the meanings of difficult words. 
| | |
| --- | --- |
| Binding | Paperback |
| No. of pages | 36 |
| Dimensions | 18 x 24 cm  |
| Recommended age | 12+ years |