---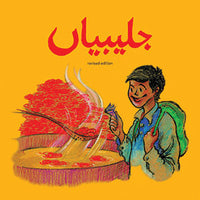 A Grade 5 student gets tempted by a jalebi seller near his school and ends up buying jalebis with money meant for his school fees. Will he get caught? Find out what happens and what lesson he learns. 
A destitute but intelligent villager is broke and all he has is a pet duck. He slaughters it and takes it to the village landowner (chaudhry) as a gift, hoping for some reward in return. The chaudhry has an interesting demand. What happens next?
Also including anecdotes of Mulla Nasruddin (Nasreddin Hodja) and an introduction to the poet Mirza Ghalib, "Jalebian" is an excellent collection of short stories and poems meant for preteen kids. 
| | |
| --- | --- |
| Binding | Paperback |
| No. of pages | 68 |
| Dimensions | 21.5 cm x 21.5 cm |
| Recommended age | 10-11 years |